New 4-Apartment House Type
Scandinavian Homes' newest standard house is a unit containing four apartments, constructed to very low energy or passivehouse standard.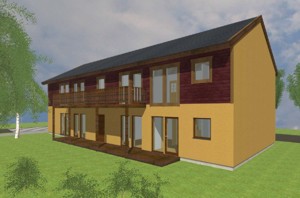 Each apartment has a floor area of about 70m2 and can be build in 1- or 2-bed configurations. Turn-key construction costs including foundation but not land, are estimated at around £95.000 per apartment.
The houses are air tight and feature balanced ventilation with heat recovery and air heating. Facilities like washing machine and warm water processing are shared by the apartments and placed in a common area.
The construction technology is based on off-site manufactured timber structures. As with all Scandinavian Homes products the timber is from sustainable Scandinavian forests, and ecologically friendly and recycled materials are used to the extent this is technically possible and economical.
These buildings are suitable as starter accommodation and social housing.
Lead time for orders is currently approximately four months. The build time is around three weeks plus fixes. Contact Zero-Carbon Solutions for further information.